Health Ministries Clinic is committed to providing quality services to Harvey County and the surrounding areas.
Our primary health care services are provided by physicians (MD/DO) and mid-level practitioners (APRN/PA) supported by our nursing care team. Services are provided by highly skilled and compassionate providers working as an integrated team.
Services are provided on a sliding fee scale to those who qualify. The clinic accepts most major private insurances as well as Medicaid and Medicare. Appointments are needed for most services, although many times we may be able to see you the same day you call. All ages are welcome.
---
For Patients
Health Ministries is your Medical Home
What is a "Medical Home"?
It's a system of care in which a group of health professionals – your Medical Home Team – work together to provide all of your health care needs.
You are the most important member of the team.
We know you & your health history.
Electronic medical Records keep the team on the same page.
We're available when you need us.
Your health and safety is very important to us.
If you have questions or concerns please ask. If you don't understand please ask again. If something doesn't seem quite right, tell a member of our team.
What to bring to your appointment:
Please bring ID and proof of insurance (or Medical Card). If you don't have insurance, bring proof of income so HMC can assign you to a sliding fee scale. Bring any medication that you are currently taking so your providers can better assist you.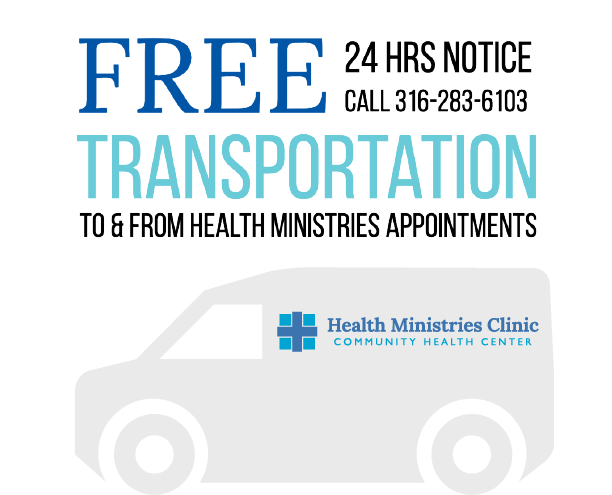 Transportation
Health Ministries Clinic patients living in Newton who do not have transportation to and from their appointments can get free rides from Health Ministries Clinic. Please allow 24-hour notice. Call 316.283.6103 to schedule a ride or for more information.
Medical Care
Our primary health care services are provided by physicians (MD) and nurse practitioners (APRN) supported by our nursing care team. Our primary care services include:
Same day appointments
Non-emergency primary care
Chronic disease management
Physicals (school, sports, employment, etc.)
Well Woman exams
Immunizations
Kan Be Healthy/ Well child care
Lab services
Diagnostic Imaging (X-ray, CT scan, DEXA scan)
Acute Illness
Dental Care
Our general dentistry services are provided by dentists (DDS) and registered dental hygienists (RDH) supported by our dental assistants. Our general dentistry services include:
Dental Emergencies
Exams and X-rays
Cleanings
Fillings
Extractions
Behavioral Health
We provide behavioral health services to patients who have established care with us as a medical or dental patient, as a part of our integrated care model. We do not provide behavioral health services to patients who receive their primary care through outside clinics. Our behavioral health services are provided by a Licensed Specialist Clinical Social Worker (LSCSW) and psychiatric nurse practitioner (APRN) supported by a nurse case coordinator. If patients need ongoing therapy, we can help refer to outside agencies who can provide those services. Our in-house services include:
Behavioral assessment
Brief, solution focused therapy
Targeted lifestyle change
Psychiatric medication consultation
Prescription Assistance
Health Ministries Clinic's Medication Assistance Program (MAP) is a partnership between you, your Health Ministries Clinic care team, and the manufacturers of prescription drugs. Eligibility is based on household income and not having any other type of prescription coverage through insurance. If eligible you may be able to receive some or all of your medications for free or at a reduced price. We have a MAP coordinator who can assist in determining if this program is an option for you.
As a Federally Qualified Health Center, Health Ministries Clinic provides patient access to certain discounted medications that are prescribed by HMC providers as part of treatment plans. HMC contracts with area pharmacies to provide this service under the Federal 340B Program.
Pharmacy
The Health Ministries Clinic Pharmacy offers no-hassle prescription transfers, a convenient drive-thru window, easy refill options, and refills can be mailed to you.
To transfer a prescription stop by the Health Ministries Clinic or call (316) 284-5151.
Walk-in hours:
Monday, Wednesday, Friday: 8:00am – 5:00pm
Tuesday, Thursday: 8:00am – 7:00pm
Saturday: CLOSED
Sunday: CLOSED
Drive-thru hours:
Monday, Wednesday, Friday: 8:00am – 6:00pm
Tuesday, Thursday: 8:00am – 7:00pm
Saturday: 8:00am – 12:00pm
Sunday: CLOSED